Our story: Be apart. Create together.
World-shifting audio and video projects don't have to stop just because everyone isn't in the same room. Yes, there are unique challenges to bridging space and time zones. And in addition to our day jobs, we're teaching and taking music lessons; composing arrangements online; and engineering sound for games, or recording our next podcast. But you've got access to affordable, secure technology to enable that remote experience, because it's our passion.
Source Elements delivers high-quality, innovative solutions through our platform components. We stay with you to see your masterpiece through to completion, with constant communication and 24/7 support. Whether you need to record a voice actor or musician, compose, live-stream, and record an orchestra performance around the world, or sync a commercial spot with video across the city, Source Elements is the way to lock-in sound quality and synchronicity.
Unlike other solutions that are highly complex and force a fragmented approach to collaboration, Source Elements is easy to learn. Easy to use. And hard to resist once you hear your highest-caliber audio creations. All from being connected by a platform so impressive it even heals itself when there is internet packet loss or wireless network lag. Our tools give you the confidence to keep working. Get ready to get secure, relaxed, and expansive in your technical artistry.
With Source Elements, now is your time.
Our history: We are technology. We are community
Since 2005 Source Elements helps connect creative people around the world to collaborate in real-time production, approval, and delivery of professional quality media, for the media industry. Source Elements is the makers of Source-Connect: the industry standard in the film and television industry for remote recording, review & approval. We make what seems impossible, possible—by introducing real-time workflows to multimedia productions through a suite of software applications that enables broadcast quality production within your collaborative online environment.
While the quality, convenience, and reliability of our premier products along with our reputation for high-touch customer service and support are what have established us until now, we work hard to continue the revolution. Recently, we released Source-Live Pro Low Latency, a web-based professional-quality production environment that is poised to change how professional media is made online, and a major release of our famed Source-Nexus plugin is now available for Windows. We're excited to have you on board.
Rebekah Wilson, CEO & Co-Founder
Rebekah is the technical co-founder and CEO who co-created the entire suite of Source Elements software. With a degree in music composition and a lifetime of love for technology, Rebekah has focused her career as a composer, electronic music researcher and software developer, with a particular focus on media technology. With her dual capacities in both technical and business operations she is instrumental in building Source Elements into a global company, a connected network of tens of thousands of media professionals who rely on their software to complete their projects.
In 2018, Rebekah returned to university to study Networked Music Performance where she merged two passions: music and network technology. Also teaching on the topic at the Royal Conservatory of the Hague, she aims to be part of the future where increasingly sophisticated internet and music technologies emerge. With technological advances in rich audio and video applications, being distant from each other is no longer a barrier when it comes to performing together.
Robert Marshall, Innovations & Co-founder
Robert Marshall is the innovations co-founder who holds degrees in electrical engineering and music composition. Using his skills as a musician, engineer, and producer, he is the visionary behind the idea of leveraging Internet connectivity to make post-production faster and more productive. He is a crucial force behind the solutions that have become synonymous with Source Elements such as Remote Transport Sync and Auto-Restore & Replace.
While having one hand on the mixing desk he helped lead the industry away from ISDN and onto the internet—with Source Elements as the gateway.  With more than a decade working as a sound designer/mixer on national & international radio and TV spots, he provides services in broadcast capacities for various new outlets including NPR and runs ADR sessions for film and episodic work. This extensive, ongoing hands-on experience helps Robert have a full understanding of what the industry needs. Robert's focus on core functionality and customer relationships have been key to Source Elements' continued development as an industry-leader.
At Source Elements, we are proud that many of our team members have unique musical talents and passions that make them shine as individuals.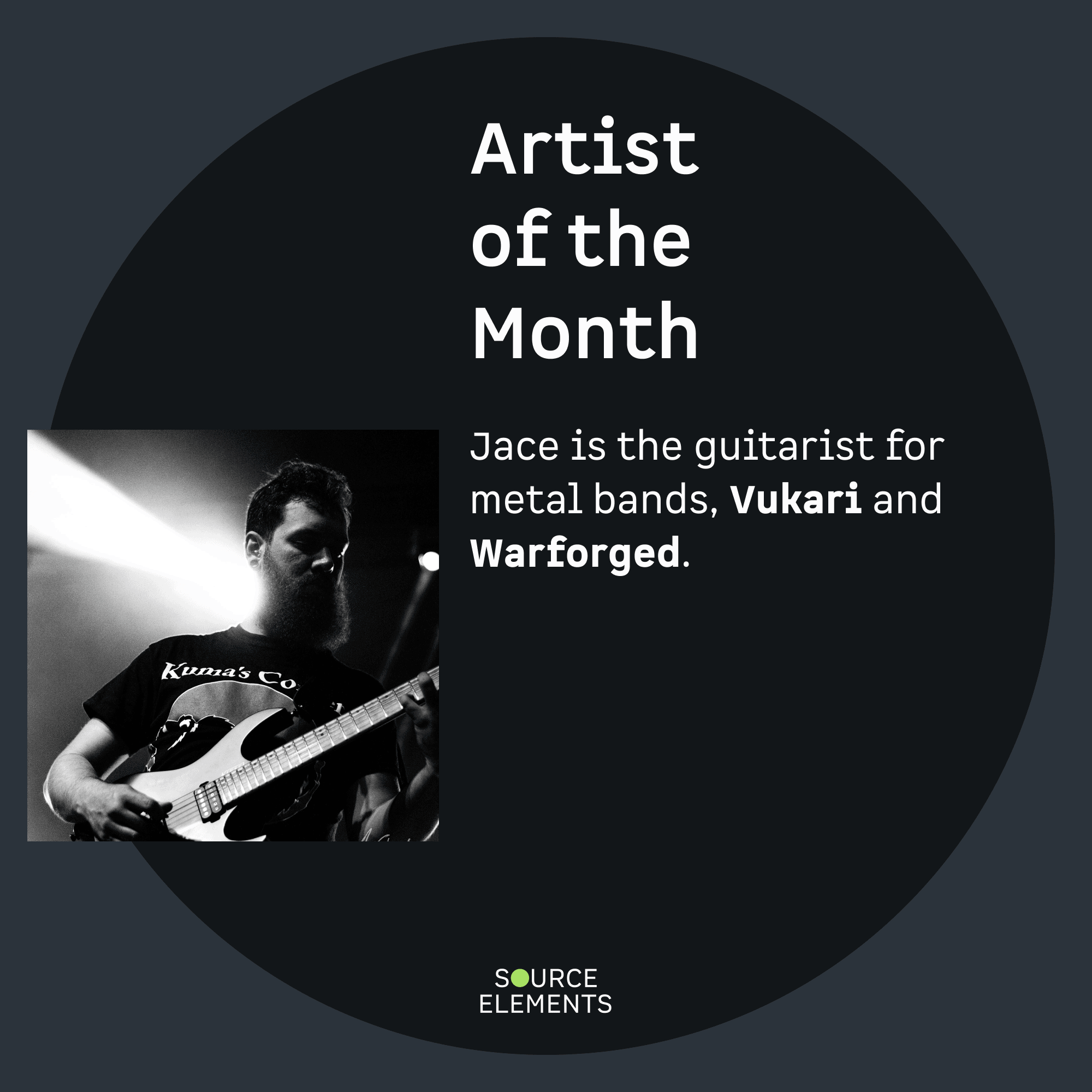 Jace is the guitarist for metal bands, Vukari and Warforged.
Nadya KID is an electronic music producer from the Netherlands based in Reykjavik, Iceland.
Elena Šiljić is a producer, engineer & electronic musician from Auckland, New Zealand.
Transit of Venus is a project by Auckland-based Kristie Addison, ranging from pop rock to prog rock all the way to a gothic silent-film soundtrack.
Thanasis Deligiannis is a composer, sound designer and performer from Greece based in the Netherlands.
Michelle Klaessens Rawstron played the keyboard, piano, backing vocals and also did the mastering for Auckland-based alternative rock band Amperzahn.
Santilitre is the stage name of the electronic music project of Ugur Can Akkaya, who is a music academic. His music is mainly a blend of electronica & sound art genres.